I like this time-stamp thing.
630am: Wake up call.
8am: State delegation breakfast.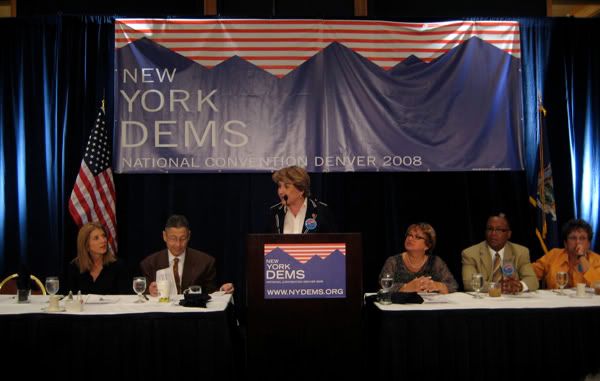 Caroline Kennedy addressing the NY Delegation at Breakfast.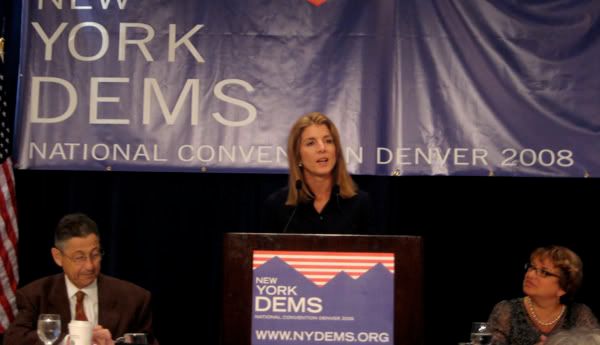 930am: Pick up credentials.
10am: All the clothes I brought for the convention involve pants, and it's 95 degrees outside. I run around trying to find something cooler, end up finding a skirt that will work. I change clothes in the fitting room and walk out of the store wearing what I purchased.
1130am: Bill Richardson at the Latino Leaders Network Luncheon
View from the Lation Leaders Network Luncheon. Invesco on the left, Pepsico on the right.
130pm: Stop by hotel to drop things off, catch the free mall shuttle, then walk the rest of the way.
3pm: Arrive at Pepsico. It's still pretty empty, and I'm able to walk right up to the podium for Dennis Kucinich. He's AWESOME. (and vegan! <3 alt="Photobucket - Video and Image Hosting" src="http://i81.photobucket.com/albums/j237/allisoncdavis/dnc%20day%203/IMG_9810.jpg">
I wish I'd taken more photos of people in costume and with silly hats. I was so awestruck by my icons and heroes that I kinda forgot to take pictures of things normal people would be interested in.
Howard Dean being interviewed by David Gregory for MSNBC.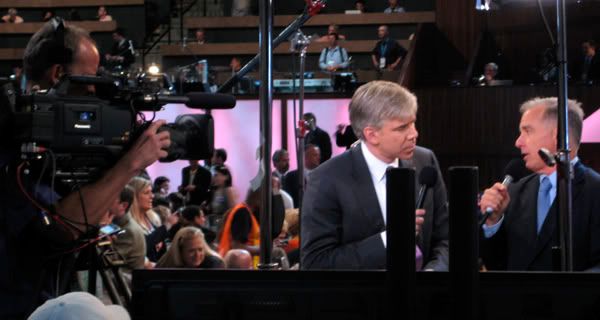 If you don't know who this lady is, you should really look her up. Especially if you're a woman. You'll be shocked.
Toby from the West Wing was getting harassed for photos and couldn't find a seat, so Hilda ever so kindly gave him mine. He sat with us for over an hour.
Bill Richardson being interviewed. The two of them were giggling half the time, I wish I could've heard their conversation.
Awesome!
10pm: Just as the convention was ending, a host from Entertainment Tonight and The Insider approached me for an interview. I did it, but they'll probably cut it and it won't get aired.
1130pm: Back at the hotel room, talk with roommates and fall asleep around 2am watching MSNBC.3>