After several weeks' worth of listserv emails, we were able to get three carloads organized for a trip upstate for camping, hiking and tubing fun. Unfortunately, none of this planning mattered to Mother Nature, and Hurricane Hannah decided to tag along for the weekend. Luckily for us, she turned out to be the life of the party.
other people's photos of the trip:
erica.
laura.
brian.
samuel.
chris.
Jason and I arrived at North-South Lake State Park in the Catskills late Friday evening. Part of our group was already there, and we helped finish setting up the tents before enjoying a few beers and some dinner around the campfire.
It started raining late that night after we were already in bed, but for the most part, cleared up in time for breakfast. After breakfast, we went hiking at Kaaterskill falls.
Laura, Samuel, Matt.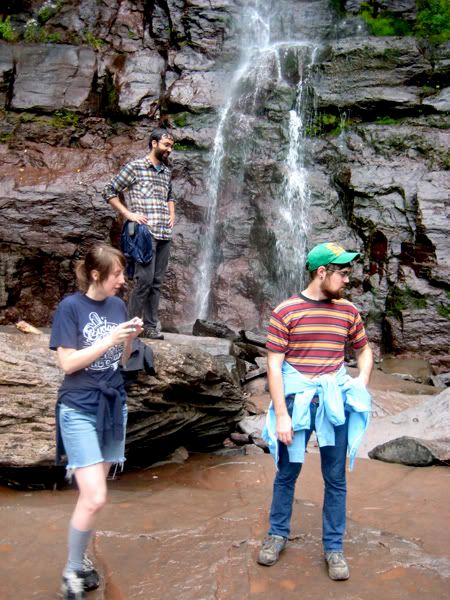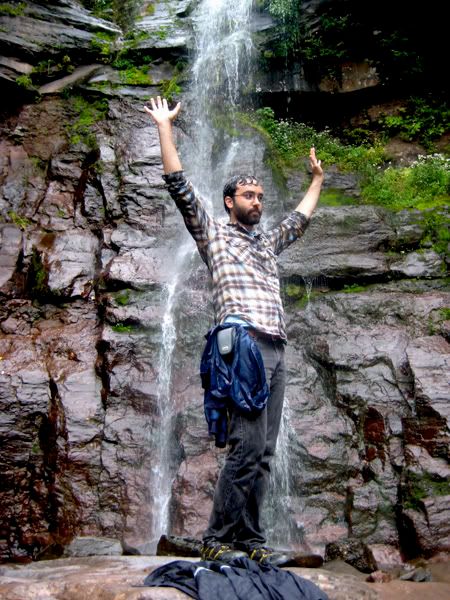 Me with She-ra.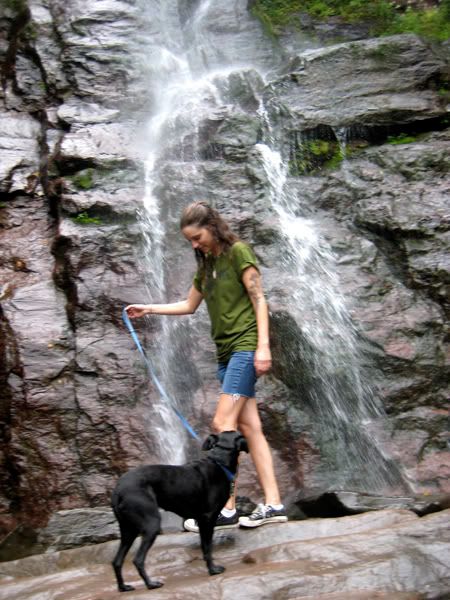 Brian peeking over the top of the lower falls.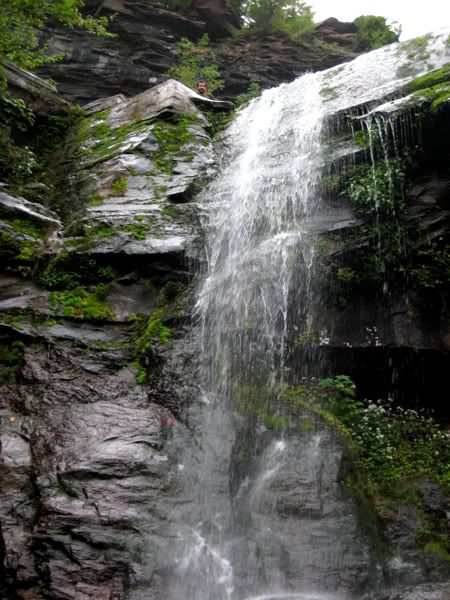 Jason.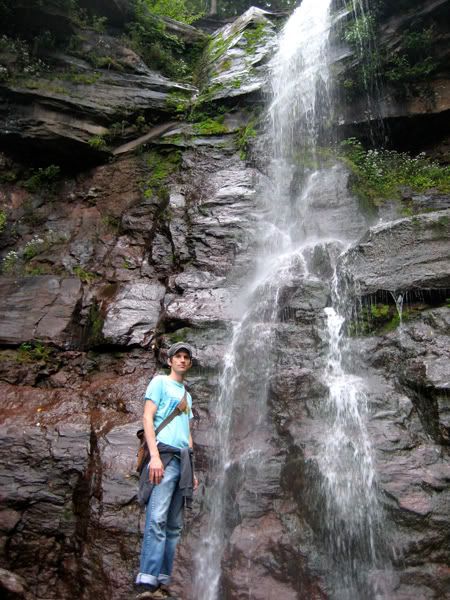 Jason's view from the top of the lower falls.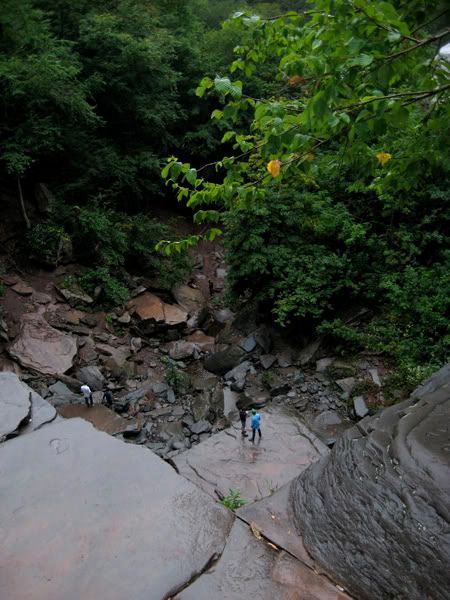 My view from the very bottom.
Fun with macro.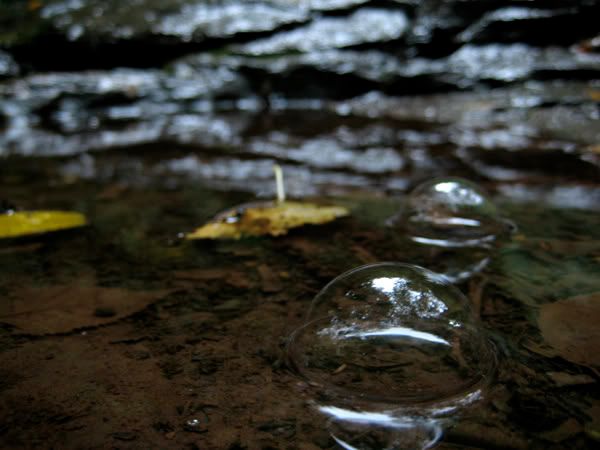 It started raining mid-afternoon, so after meeting up with the rest of the group (some people drove up Sat. morning), we drove into Woodstock to kill some rainy time. Brian, Jason and I ate at Garden Cafe, which was suuuuper good. If you're ever in the area and craving delicious vegan food, I highly recommend it, especially the strawberry shortcake with non-dairy whipped cream.
After Woodstock, we headed back to the campsite, and the ten of us put our brains together to make a big rain-cover from a tarp tied between several trees. The process took a few hours and involved a bit of trial and error, but was definitely one of the more hilarious highlights of the trip. A little after nightfall we made it work, and enjoyed it for another hour or two before the rain finally let up and we were able to start a fire and the drying-out process.
Sunday morning we awoke to a cool breeze and perfectly clear skies. After breakfast, taking down the tarp and packing up all our gear, we went down to check out the lakes.
North part of North-South Lake.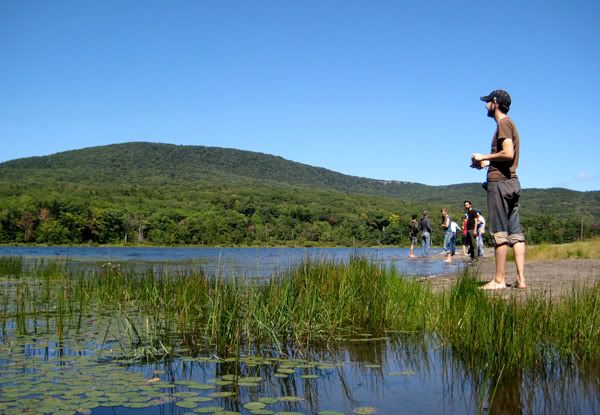 After playing around on the beach and in the water for a bit, we drove to Saugerties to check out
opus 40
.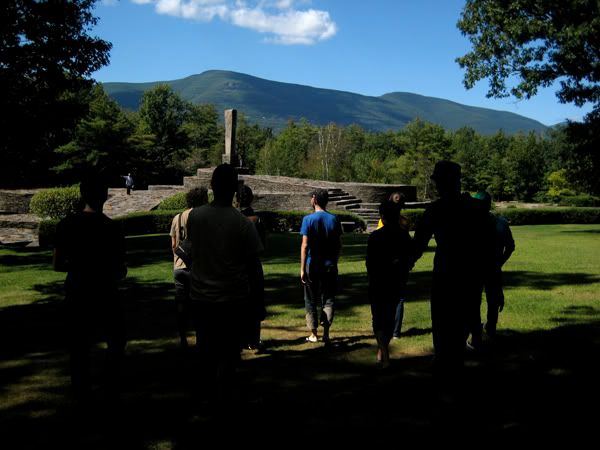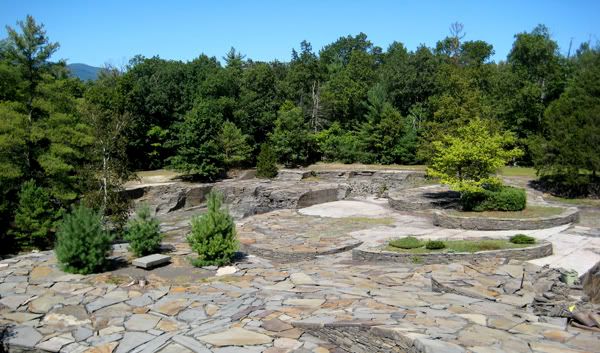 Matt, Jeremy, Brian, Erica, Laura, Juliana and Jason check out the top of the sculpture.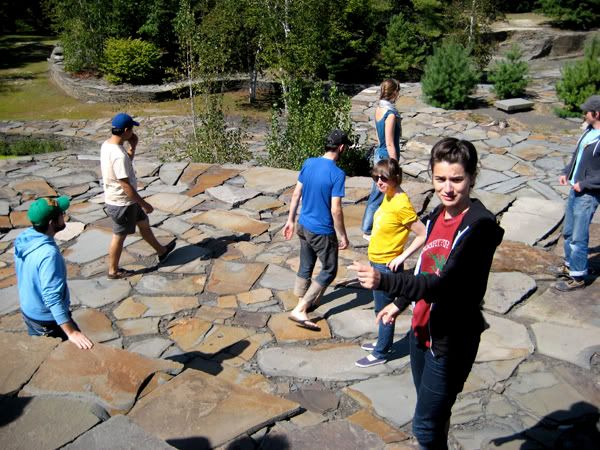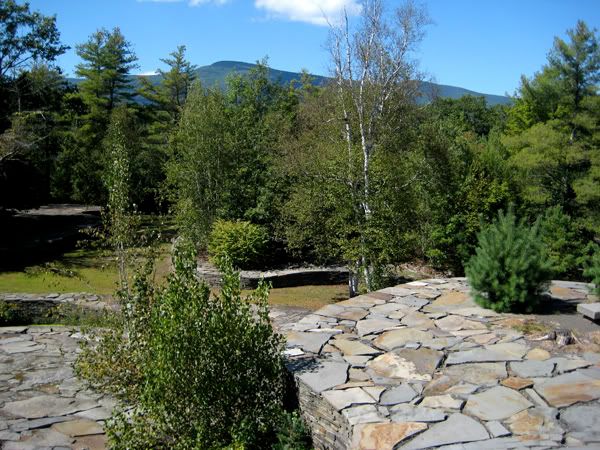 Chris in one of the crevices.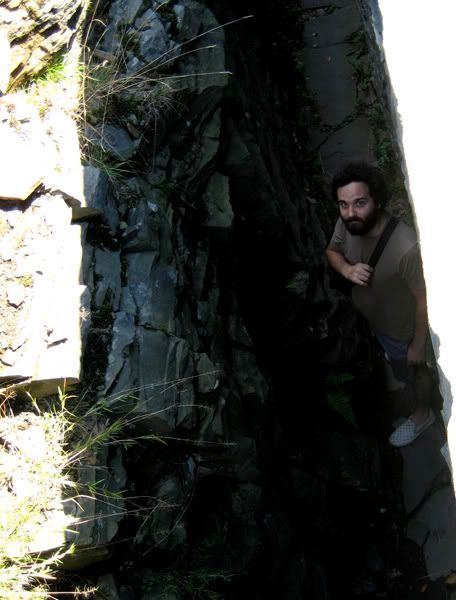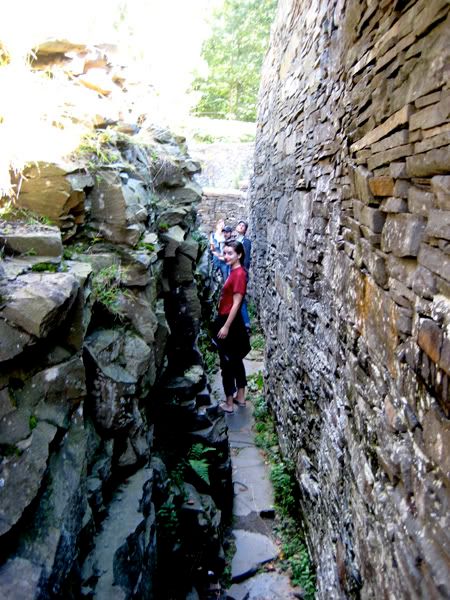 Samuel and Jason in the labyrinth-like crevices of the carved-out quarry.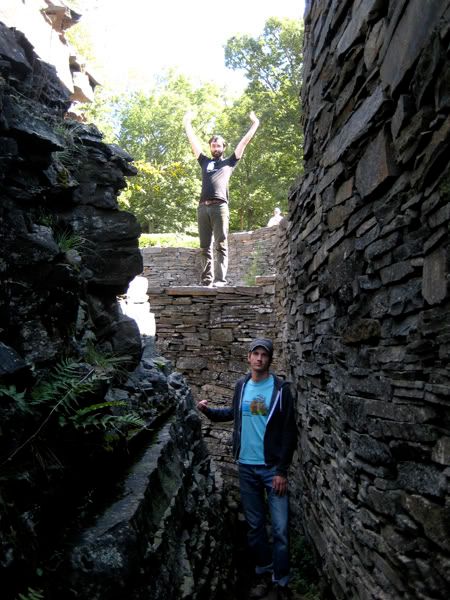 Hah.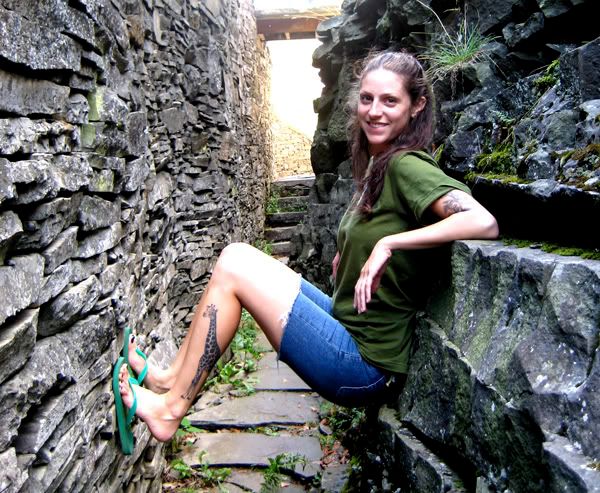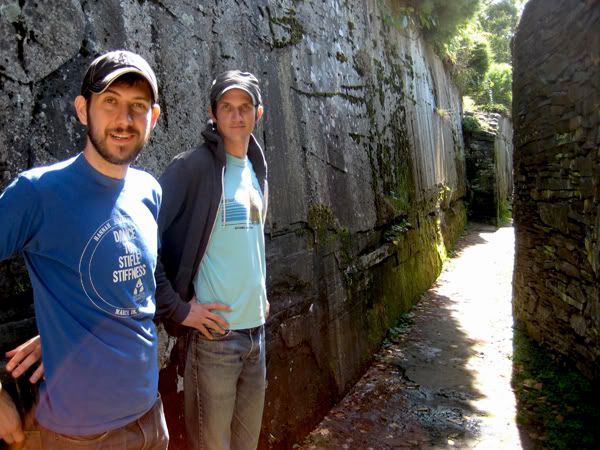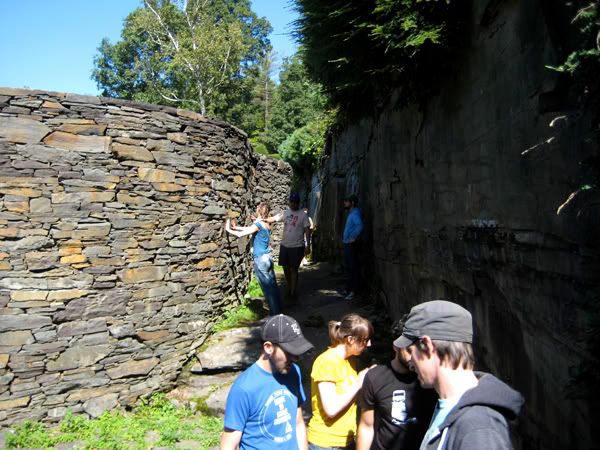 Back at the top.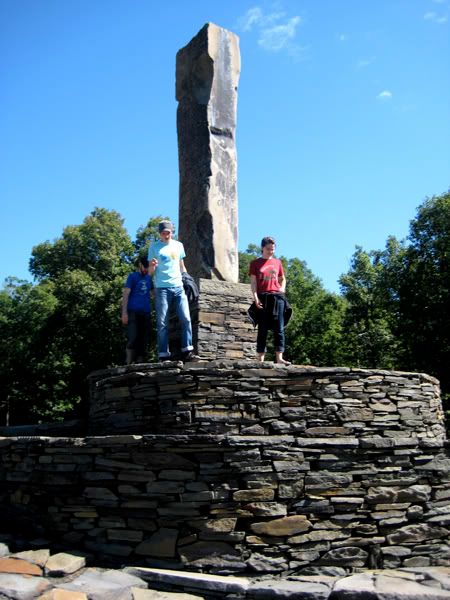 Creepy Pools.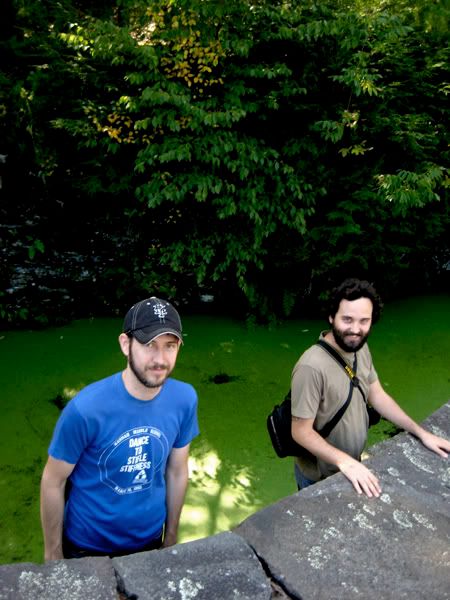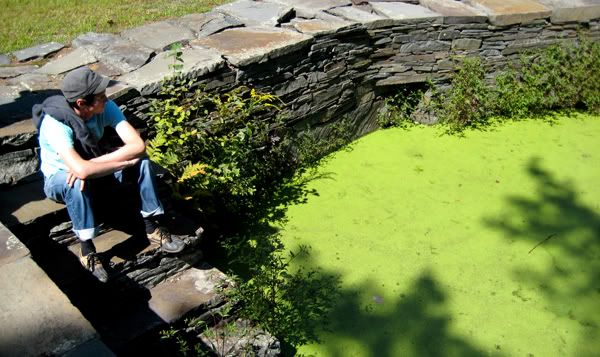 Group Action Shot #1.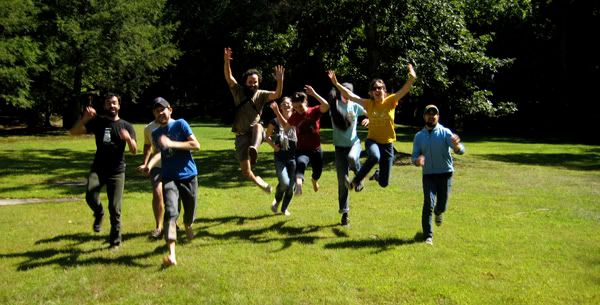 GAS #2.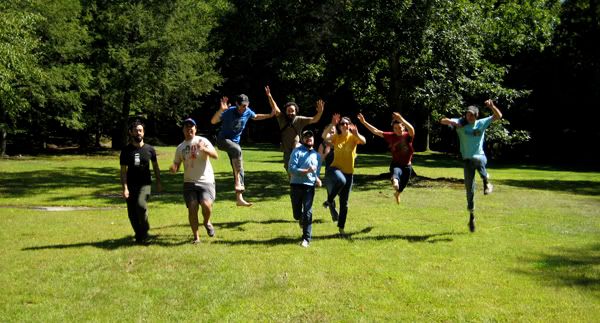 Brian did an impression of post-driving-your-tractor-off-the-side-of-a-quarry while Chris and Erica erected a stone statue in his memory.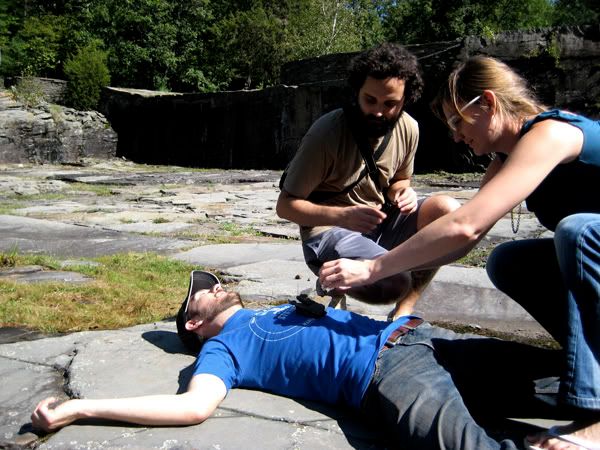 After Opus 40, everyone went tubing on the Esopus River while She-ra and I attempted to catch minows. I forgot to take photos. Then we went out for one last group dinner in Phoenicia and headed home.